Abbey Games is an independent game studio from Utrecht in the Netherlands.
Abbots
Adriaan Jansen: Co-founder of Abbey Games. Likes games. A lot. His favorite activities are playing games, making games, thinking about making games and being left the heck alone. He is a driving creative force within Abbey Games.
Bas "the Baws" Zalmstra: Is the Baws. Not only a co-founder of Abbey Games, but also our very skilled technical lead. Bas develops our homemade AbbeyCore-engine and helps out with all things technical.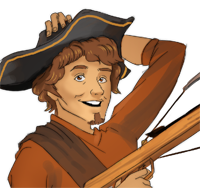 Maarten "Marteen Brian" Wiedenhof: Maarten Wiedenhof is co-founder, CEO and also responsible for technical art. Maarten is a Renaissance-man, and this is reflected in his many favorite activities. His profile picture has a cat, but Maarten does not have a cat. @Waarten on Twitter.
Manuel Kerssemakers: Being a champion in AI, design, programming, and co-founding, you can clearly see that Manuel is made for creating. Also handles things related to press and does marketing. @ManuelKers on Twitter.
Monks
Marlies Barends: Makes pretty in-game art, animations and UI. Marlies has a website at www.worksofheart.nl. Check it out!
Joni van der Leeuw: Producer and manager with music skills. Is so in love with music that he played at OIIO, and had his own label. @Jonidus on Twitter.
Rutger Harder: A skilled and intelligent guy who is doing game programming at the Abbey. Has a mysterious booklet in which he occasionally writes. Current record holder in the 'beard' category.
Carmen van Sleeuwen: 2D Animator who makes the cutest characters for our games. Changes hair color occasionally.
Abbey Friends
Yme de Jong: Aural atmosphere architect. Provided the world of Reus with the sounds of life and now helps out with Renowned Explorers. Nobody can hate this guy. It's just physically impossible.
Tim de Jager: Programmer ace, spare time roboticist, and comical duo. Tim has been with the Abbey from very early on and worked on both Reus and Renowned Explorers.
Dennis Pullens: Game designer and game programmer who knows a lot about SCRUM. Dennis has worked on Reus and Renowned Explorers.
Peter Klijn: 2D artist with love for characters, narrative in games and games in general. Worked on the many characters in Renowned Explorers.
Rick Sorgdrager: Rick is a strong and creative force within art, UI and game design. Has a strong love for board games and obscure tabletop RPGs.
Yuri "Yurbot" van Geffen: Yuri has helped us out with engine programming and tooling. He also likes to organize cool parties and meetups.
Internship Hall Of Fame
These interns ended up working with us for longer than just their internship:
Rick Sorgdrager: UI, Game Design & 2D Artist-hybrid and board game fanatic
Daniël Konings: Engine and game programmer with technical art-skills
Steff Kempink: Game Designer-programmer with an eye for detail
Yuri "Yurbot" van Geffen: Engine programmer who's done a lot for the Abbey in general